Today YOU can be one of the former back pain sufferers to join the thousands of people who discovered End Your Back Pain Now system and used this life-changing information to free themselves from chronic back pain, muscle stiffness, increase energy and flexibility, and now feel 30 years younger!
I know, I know, if I was reading such a claim on someone else's website I'd be skeptical too, but it is the absolute truth, and if you suspend your disbelief for just a moment, I'll show you how you can be pain-free in a matter of days, without surgery or even uncomfortable visits to the doctor!
"When i first consulted with Sam, my neck and back pain and low back pain were chronic, getting worse, and limiting my ability to work and play. Additionally, my concern was these issues would shorten or even ruin my career as a surgeon After working with Sam on his corrective program, at this point, for the first time in a decade I have NO neck or back pain. I feel no limitations in my physical activities and I don't have a fear that my career will be ruined. The most impressive part is the individual nature of his program design. Instead of the "cookie cutter" approach to wellness, the appropriate information was gathered to understand the nature of my problem, the realities of my life, and only then he developed the individual plan that would work for me…"
Mark Galantowicz MD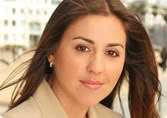 "Sam is an excellent mind/body fitness coach and trainer. When it comes to eliminating complex back problems, Sam's your man. He is passionate about his work and dedicated to healing his clients. I highly recommend his services…."
Michelle Armstrong - Author, Manage Your Mind, Master Your Life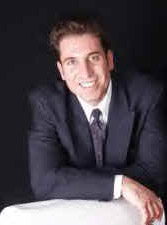 "I was so impressed when working with Sam, from his detailed and thorough evaluation, to the great workouts and home exercises prescribed. I've referred a number of people to Sam and in the past we've used his DVD for gifts to patients for home care. I strongly recommend Sam's services and hope to be working with him personally at some time in the near future…"
Matt Costantino DC, HealthSource Chiropractic

"In my experience it is rare to find a health practitioner who consistently cures the underlying issues, and successfully drives to total wellness. Sam has become our trusted family 'health support system' because he is one of those rare people. He has successfully helped my mother in law, sister, wife, daughter and myself cure what western medicine has been unable to. We highly recommend Sam…plus he's a cool guy!…"
Tim Parsey, Microsoft Partner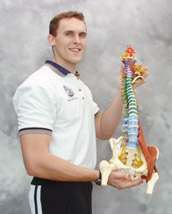 From the Desk of: Sam Visnic, Neuromuscular Therapist …
Visnic Center for Integrated Health, Santa Monica, CA
You and I both know that life with back pain is extremely painful, frustrating, and debilitating.
Sometimes the pain may be so bad that despite being tempted to go outside on a perfect sunny day and play with your kids, spend time with your friends, and just do the things you love…you are forced to stay inside because you know that you will "pay the price" for it later in the day…and you remain locked up inside.
And the worst thing is…"rest" alone does not always help relieve even the minor aches, because staying in bed and resting only makes the pain worse. It's a vicious cycle that robs you of your life and leaves you locked inside your own house, in pain.
And if your suffer from chronic pain, then you have certainly been through the ringer, hopelessly seeking help and failing to find effective medical help.
After wasting thousands of dollars on doctors who receive little to no training on how to diagnose or even treat most back problems…and spending hours in a waiting room for a 15 minute visit…you probably left that office with 2 slips in your hand; 1 is a prescription for pain killers and muscle relaxants, the other is a referral to a 'Specialist.' But your back pain remains.
You may even wonder if…
All Doctors Will Just Try To Rip You Off ??!!
No, of course not.
And if you've gotten little or no pain relief from your primary doctor, you're not alone…And while it is of no fault of your own…it's not entirely their fault either!!!
You see, it's not that your doctor won't try to help you – in most cases, they do everything they know how to do. The problem is that when it comes to back pain, their knowledge is limited; traditional western medicine just doesn't have a good track record.
So what's the result? Many patients, possibly you too, switch in vain from doctor to doctor, but do not find any lasting relief. Some patients get temporary relief from alternative medicine treatments, but that relief is short-lived.
This is because the source of the pain still remains elusive and untreated.
You may be wondering…
Why Is It The Doctors Cannot Help My Back Pain?
The sad truth is doctors, both traditional western practitioners and even alternative care providers – with all their good intentions – got it all wrong!
What exactly are they doing wrong?
The answer is simple – most back pain therapies address the symptoms and not the underlying problem. And as you can probably guess, the result of any approach that only addresses symptoms will be temporary relief at best.
Muscle relaxants, pain medications, anti-inflammatory drugs and other medications simply mask the underlying structural abnormalities.
Physical therapy might help for a while – it might even stop the "flare up" altogether…but in most cases the symptoms reappear over time.
You can try the more natural route and opt for alternative medicine treatments, but you probably heard…
Alternative Treatment Therapies Can Put You In A Hospital In A Heartbeat!
Sad but true. You were lucky if the last time you visited your chiropractor or acupuncturist, you left the office with a short-lived sight of relief…that lasted the whole 30 minutes.
I had a friend who had to get medical treatment from moxibustion, another suffered a spasm so bad he could barely move his neck for a week, and I…lets just say when some crazy Chinese dude says he will do "through-and-through needling" to relieve your knee pain, he actually means it!!!
Maybe you got some relief, but how long did it take after you left the office for the pain to return? If you're lucky, you had a few days – but the point is that it returned. Why? Because the underlying problems that cause the pain are still there.
Consider this fact: over 80% of Americans suffer from an episode of back pain – and there is an extremely high recurrence rate in 6-9 months. What's worse, the chance of back pain recurring increases with each episode.
That means the more times your back has "gone out", the greater the chance it will happen again.
The truth is, the longer you have the problems, the more likely they are to recur…and the damage will get worse over time… Stop the guesswork, get the back pain relief you deserve, and regain control over your life.
If you're not addressing the actual CAUSE of your back pain, time is your enemy. Because as time passes, chances are you'll experience more episodes of pain – or even constant or worsening pain… and that's when some back pain sufferers like yourself even consider surgery.
The Sad Truth About Surgery
Surgery can make your back pain worse, too. Here's another dismal statistic: according to Spine Magazine, 67% of low back surgeries are WORSE after surgery. 2/3 of patients are in MORE pain – not less – after going under the knife.
At this point you are probably wondering…
Is There ANY Solution For My Back Pain That Produces a Profound and

Long-Lasting Results

?!
In short, the answer to this question is a resounding yes! There is a more holistic, integrated movement method for back pain sufferers that has been successful in 90% of qualified candidates who've tried it.
I've been practicing neuromuscular therapy for 9 years, and for the first time has been able to present this new revolutionary and scientific approach to relieving back pain in a my comprehensive step-by-step video self-exercise program called End Your Back Pain Now.
It is the program many others refer to as a "'miraculous' success at helping people with back pain."
Now, I don't know about all that, but before we go any further, you should know that…
No matter what's causing your back pain…Herniated discs… sciatica … scoliosis …muscle spasms…arthritis of the spine … or one or more of the 53 + back and spine conditions identified by the medical field…you should know the End Your Back Pain Now method you are about to discover has already helped someone in your situation!!
Here's what others say about End Your Back Pain Now program.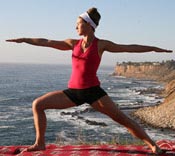 "At 18 years of age I was a fitness fanatic and very fit, but was experiencing back pain more than ever. By this time I had visited famous doctors with no relief. I was diagnosed with 3 bulging discs and scoliosis. I refused to take medications because I knew they would destroy my body. After college, I was bed ridden for months, unable to move at all. I remember one day I lost all hope. A well known orthopedic surgeon told me I could have back surgery with the 50/50 chance that I would get better. When I refused the surgery, he told me to get a wheelchair and to change my lifestyle! I worked with Sam for 3 months on a corrective exercise program and made some dramatic changes in my diet and lifestyle. Sam's charismatic personality kept me focused on what I wanted and before the end of 10 weeks, I was pain free!… "
Karen Gutierrez Pilates + Yoga Instructor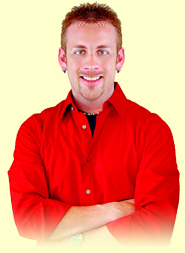 "As a full time web designer I often spend too many hours sitting behind the PC which led to chronic back pain. I started working with Sam a few years ago and his knowledge and insight helped me to alleviate my back pain issues and even improve my posture. Whenever I start to have back pain issues I just re-implement the tools and techniques he showed to me and in no time my back pain goes away. He really is the back pain specialist!…"
Jimmy Powell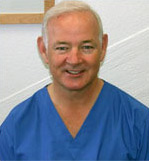 "Sam, I just wanted to tell you how impressed I am with your knowledge and ability as a healer. You are the only person I have seen who has been able to get my back out of pain and keep it out of pain. After 28 years practicing dentistry I thought that I would have to suffer the rest of my life with moderate to severe back pain. I came to you years ago in terrible back pain, you relieved that and with regular preventative visits, have kept me out of pain. I am also thankful for your nutritional knowledge. After suffering from terrible intestinal pain and ll the tests, you fixed it with a simple dietary supplement. "Doctor" refers to a healer, and even through you don't have the title, you are one in my book. Many, many thanks!…"
John Shafer, Dentist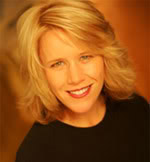 "Having someone like Sam to refer my patients to who is as comprehensive, brilliant and caring as he is makes my job so much easier! I feel assured that my patients are in good hands and are going to get the results they so desperately want. I highly recommend Sam to anyone who is looking to resolve their back pain easily and effectively!…"
Holly Lucille ND, RD
"Sam is very knowledgeable about back pain and the process for relieving pain. His approach is grounded in science and experience. Sam's holistic approach is geared towards addressing the causes, not just the symptoms. If you are experiencing lower back pain I highly suggest you contact Sam…"
Perry Schroeder
The NEW Scientific Approach to Complete Back Pain Relief
End Your Back Pain Now is the latest therapy used for back pain relief, which uses an integrated approach.
It takes into account your entire human being – all of your systems – not just your pain and the small area of your body where it seems to be occurring. New studies conclusively show that your diet, the stress of everyday life, and even how you sit at your computer and brush your teeth can affect your levels of back pain.
It may sound crazy, but when you think about it, it all makes sense; the little things add up.
All of these factors need to be taken into account when planning an approach to alleviating your pain.
What you eat can truly affect how much inflammation is in your body… how you sit while in your office at work can put additional stress on your muscles. Even how stressed out you get when your boss gives you more than you can handle – all of these, and many other factors, affect how quickly your back heals.
And it is equally important to consider your unique muscular situation.
A major component of the new approach to back pain relief is that key muscles and imbalances are involved in over 90% of all back pain cases. Once these muscle imbalances are restored, the result is profound and long-lasting relief from back pain.
The pictures bellow represent a very simple example of how muscles interact with joints in your spine.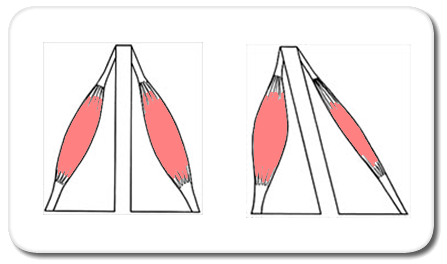 So What's The BIG Secret?
When each muscle on either side of the joint has an equal amount of tension, then the joint is said to be in a "neutral" position. This neutral position allows the joint to move normally and keep each muscle doing an equal amount of work. In this scenario, everyone is happy!
However, there is another very common case…
When muscles are imbalanced, they have unequal amounts of tension on either side of a joint. One muscle is doing most of the work – it becomes too strong and tight. The other one becomes weak and fatigued!
Either of these muscles can be the exact cause of your pain – not to mention the incredible amount of stress that these muscle imbalances are putting on your joints!
So the real question is,
How To Find Back Pain Relief That Really Lasts..?!
In short, watch, and follow simple instructions in the End Your Back Pain Now DVD Program. It is the most effective and the most comprehensive back pain solution on the market today.
The End Your Back Pain Nowprogram is designed to help you take charge of your own health and end your back pain in the comfort of your own home. When your "back pain relief program" arrives at your home, pop one of the DVDs into your dvd player or your computer, and you will immediately learn…
An integrated approach to lasting back pain relief – so you heal faster and better …without just masking the pain

A detailed system anyone can follow to assess their own muscle imbalances at home – with no special equipment to buy

Works in 90% of back pain cases, as unbelievable as it may seem.

Stronger, healthier body – and more energy as an added bonus to your pain free back!

Flexibility – do the exercises in the comfort of your own home – no doctor's appointment required

Precise instructions and step-by-step videos showing corrective stretches and exercises that are tailored to your unique situation

Nutrition and lifestyle recommendations to speed the healing process

Stress reduction strategies to incorporate into your daily regimen – reduce the chances of "flare ups" and irritation to your back

Learn the most effective way to use alternative therapies such as chiropractic care and acupuncture so that they HELP rather than HINDER your healing

The first step towards relief is to found in ________________ types of muscle imbalances you have.

The 5 simple methods you can use at home to identify exactly what muscular imbalances are contributing to your pain (no doctor visits and no additional equipment required!)

A comprehensive step-by-step set of solutions to correct your imbalances

The six "Don'ts" of lifting and bending… by avoiding these six things you will avoid painful and dangerous injuries

Simple exercises for strengthening your back that you can do in the comfort of your home

How biological signals of anxiety and pain can be used to your advantage for quick pain relief…
And a whole lot more!
The solution has been used, proven successful, and perfected at Visnic Center for Integrated Health in Santa Monica, CA for 8 years with over 300 satisfied clients all of whom have achieved lasting relief from their back pain.
The 4 Mechanical Causes of back pain – Can you name them? How do you alleviate each one?

The 4 Most Common Muscles Involved in Back Pain – What Your Doctor May not tell you (because frankly, he or she probably doesn't know).

The correct way to train your abdominal muscles to reduce your back pain – without making it worse like traditional crunches do.

Why the same muscles that are causing your back pain can cause knee pain, too – and how to solve both problems simultaneously!

Why do muscles "shut down" and shrink? How can you strengthen them to STOP back pain – and keep it gone.

4 common things you encounter every day – reduce these and you'll reduce your back or neck pain.

How do poor diet, food allergies and intolerances cause back pain? The answer may surprise you.

A common drink that contributes to back pain – what is it? Do you drink it yourself?
The End Your Back Pain Now DVD program also gives very precise, step-by-step instructions for gentle, easy stretches and exercises that work to correct your specific situation – so you can finally be pain free.
How stress makes your back pain worse – and what you can do about it.

An over the counter medication that could be exacerbating your back pain symptoms – a common mistake made by back pain sufferers that will shock you.

5 Energy Draining Emotions – something you won't find in ANY textbook – how they affect your body … and what to do about them.

What is intestinal dysbiosis? How does it affect your pain? A simple solution to this all too common but little understood problem.

Sleeping positions to avoid at ALL COSTS when you have back pain – and those you should use instead

Nutrition and it's influence on back pain – how to use nutrition as your ally – to reduce inflammation and speed up healing

The 6 chronic muscle tension emotions and how they can lead to physical pain

A common operation (over 1 million of these are performed annually) that could be contributing to your back pain.

Back Surgery – is it ever a valid treatment? If so, when?
"If you want to end your back pain FOR GOOD, not just for the length of time a chiropractic adjustment or a pill lasts- LISTEN TO SAM!" Click Here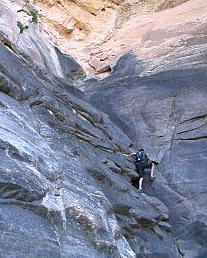 "When I first came to Sam I had suffered a mountain biking injury that made it difficult to do anything but lie flat on my back. He was concerned with addressing not just the injury, but the underlying issues that caused it. He explained how my muscles were not working together properly and how his program would fix that. His approach involved lifestyle changes, eating better and regular, targeted exercise. IT WORKED! With his help I've returned to an active lifestyle at set intervals. I feel stronger and more confident now than I ever did before, and I'll continue to follow his program to make more improvements. If you want to end your back pain FOR GOOD, not just for the length of time a chiropractic adjustment or a pill lasts- LISTEN TO SAM!…"
Jason Dada
How our approach to back pain relief can simultaneously resolve other health challenges such as weight loss resistance.

What percentage of MRIs read as abnormal? When should you worry?

Why is sciatica so difficult to diagnose properly?

How simple every day tasks like brushing your teeth and folding laundry can contribute to your back pain – and the easy way to stop this from happening

How to bend and lift heavy objects properly – this is NOT the "tired old approach" you've heard before

How to correctly set up your computer workstation to minimize disk degeneration and back stress – this one change alone can ease your pain tremendously.

How to get up from a lying position so that you don't hurt your back – this is THE most common way people re-injure their backs – we'll show you how to avoid this common mistake.

How to get down to a lying position so that you don't re-injure your back, too.

Are alternative therapies really worth the time and money? If so, when should you use them?
I've Heard Enough! Get Me My End Your Back Pain Now Program Today!
The End Your Back Pain Now program also provides information on nutrition, diet, exercise, proper standing, sitting & sleeping positions – and many other factors that contribute to back pain. It is the Complete System for speeding up the healing process and alleviating back pain … once and for all!
Discover…
The absolute best sleeping positions to virtually eliminate the stress on your back while you sleep – no new equipment necessary. Believe me, your back with thank you!

How long does it take for your postural muscles to develop some endurance for you to sit properly? Answer found on the DVD.

How the muscles in your pelvic region can cause low back pain – and how you can train specific muscles in this area to eliminate back pain once and for all.

How to assess your own posture using string, a small weight, some post it notes, and your camera. Really – it's that easy!

Easy to follow – gentle exercises to free you of unnecessary pain.

Learn essential lifestyle skills that will help you live a back pain free life – you will probably not find this information in any other back pain relief program.
End Your Back Pain Now…
Is Your Back Pain Bible!
Click Here to take back your life and live back-pain-free!
While glowing testimonials from hundreds of satisfied former back pain sufferers is the absolute proof, there are very specific reasons behind why End Your Back Pain Now works so well, and considered by some authorities on muscular-skeletal experts to be "hands-down the best system for relieving every type of back pain imaginable."
Top 5 Reasons Why End Your Back Pain Now is The Best Way to End Your Back Pain, and Why End Your Back Pain Now is Right For You
1. Get to the ROOT cause of your back pain. Less time wasted on therapies that only address the symptoms or "end result" of main cause, such as a disc bulge.
2. You learn to recognize and work safely around different types of back pain, which means that in possible future episodes, you will know EXACTLY what to do.
3. Learn essential lifestyle factors that are the "difference that makes a difference" in pain relief programs. Therapy does NOT stop at the door.
4. Through correcting core muscle imbalances, additional imbalances are corrected. The core must be corrected to fix hip, knee, and ankle problems, as well as with the upper body, shoulders, neck, and jaw.
5. Once you "get" how your body works, the learnings will carry over into all other fitness programs, sports, etc.
Claim Your End Your Back Pain Now System Now by Clicking Here
There Is Absolutely NOTHING Like This Program On The Market Today
You will not find another program available like the End Your Back Pain Now program.
You will find other programs that are based on correcting muscle imbalances, but you will not find any like this – here's how it's different:
Other programs available only cover the exercises and stretches that are necessary to correct your problem – they don't give provide the entire holistic approach to back pain and therefore don't provide the most effective plan which includes nutrition, stress reduction techniques, suggestions on sleeping postures, working and even brushing your teeth!

The End Your Back Pain Now program provides very PRECISE instructions on how to perform the postural assessment and the exercises and stretches – leaving no doubt that you're doing it right. Other programs may leave you doubting you're doing it correctly. With the End Your Back Pain Now program, you'll be sure.

Unlike other products available, Sam Visnic has worked "in the trenches" with hundreds of clients – helping them fight and recover from back pain – giving you expert advice you just won't find anywhere else.

Everything you need for back pain relief in one product – it's that simple … and it's guaranteed, too.
Activate End Your Back Pain Now…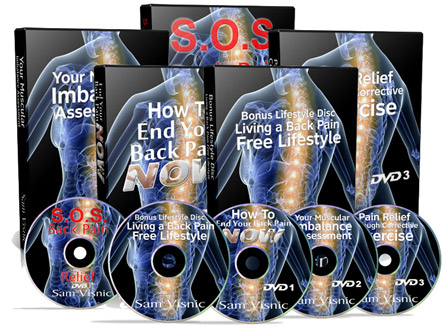 And you'll have the entire system in your hands within days, ready to dramatically improve your current health and lifestyle. No info-dripping. No membership. No continuity. You get in and immediately tap the mother lode of proven cutting-edge scientific information on back pain you've ever seen. (But listen – this stuff is laid out easy. No confusion. No taking hours to figure out.)
Your complete arsenal includes all of the following…
DVD 1: How To End Your Back Pain Now!
$97 Dollars Value
Listen to this DVD first, since it covers the basics of your back pain elimination plan…including how to use the system, why it works, and what to do first to get started right away!
---
DVD 2: Your Muscular Imbalance Assessment
$97 Dollars Value
This is the quick start guide on understanding muscle imbalances – the primary cause of most back pain. It covers the unique approach we use to help you alleviate it for good.
---
DVD 3: Pain Relief Through Corrective Exercises
$97 Dollars Value
These easy, gentle exercises and stretches are spelled out in simple to follow video clips with precise instructions so you can get rid of your back pain once and for all.
And of course you'll also get a complete manual that you will be able to download and read immediately even before your complete solution to back pain arrives at your doorsteps.
But that's not all!
I am Going to Blatantly Bribe You Into Action, With These Bonuses
Lets be honest. You have seen the system, heard the testimonials and you KNOW the program works…but it does you no good if you don't take action right now; you'll still be in pain, confined to your house, or limited in your movement and activity…and the worst thing is, if you don't act now, your back pain is only going to get worse!
So here is a "fast-action" bonus you'll get for giving the program a try today.
Bonus 1 – Personal Assessment Sheet
$49 Dollar Value
Use this handy sheet to assess your own muscle imbalance profile and keep track of your progress.
---
Bonus 2: Living a Back Pain Free Lifestyle DVD
$97 Dollar Value
This special one-of-a-kind guide teaches you how to live a back pain free lifestyle. It includes such advice as how to position your body to sleep, bend, and lift without hurting yourself. It shows you how to set up your computer workstation to reduce back stress. All of the topics covered here will not only keep you from re-injuring your back … but they'll also help speed up your healing process.
---
Bonus 3: SOS Back Pain Relief DVD
$97 Dollar Value
Did you get a random back pain? Or did a specific action triggered the pain, but you can't quite tell if it's a muscular pain, and just don't know what to do? Watch the SOS Back Pain Relief DVD, discover the problem, and exactly how to address and alleviate this incident-related back pain. This is an Invaluable DVD to have in your collection!
And that's not all!
I was not sure whether to even offer this because it puts an extraordinary demand on my personal time…But I understand you might have questions, so to eliminate any excuse you might have for trying out this unique back-pain-elimination program, I am including a personal consultation – a response to the most pressing question you might have after going through the program.
This is a true hold-you-by-the-hand solution where you are never left behind. A $175-dollar Value Service, I am including it for FREE in this package…but only for the next 57 people who buy this program.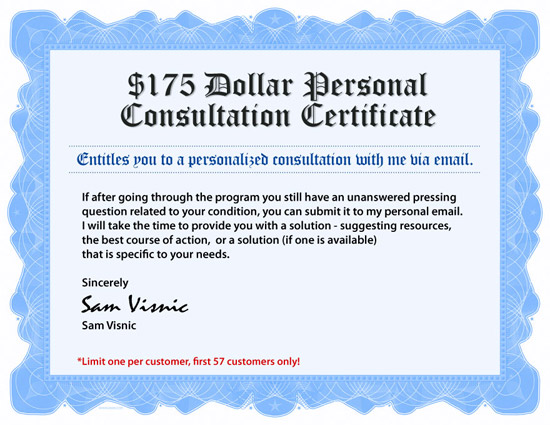 This is firm, and not some scarcity trick to get you to buy. My time is very limited and there only so many patients I can accommodate. Once my time is filled, it is filled.
Not For Everyone – Back Pain "Red Flags"
Unfortunately, there are some cases of back pain that are not simply caused by muscle imbalances. And these situations call for the advice of a physician. Please be aware that if you have any of the following symptoms, you should contact your doctor to discuss your situation:
Signs that You Should See Your Doctor
Limping/Coordination Problems
Severe Guarding of Movement
Spinal Point Tenderness
Loss of Feeling
Significant Levels of Pain
Significant Loss of Muscle Strength
Significant Loss of Muscle Size
Organ Pain
Bowel or Bladder Dysfunction
Night Pain
By now you're salivating over the fact that you've finally found a genuine, cutting-edge solution to your back pain. You're finally going to have the freedom of mobility, pain-free and vibrant lifestyle.
And do I believe End Your Back Pain Now contains the best route for pain-free lifestyle for anyone suffering from mild to chronic back pain? Yes I do. No doubt.
BUT…….
Let me be clear!!!
There is no way I can know what you will do, or how serious you are about freeing yourself from back pain. Just because others get results with this program, that alone is not a guarantee that you will. I'm saying that boldly and in big print so there is no misunderstanding.
After all, we all know people who have purchased a great program for one purpose or another, but never followed it…
And, lets be perfectly honest here…If you are they type of person who is flat out lazy, is known as a quitter and a whiner, and believes you're still suffering from back pain because someone other than you has not "understood your problem," or did not "fix" you yet – then this is NOT for you. People who fail to take personal responsibility in life never amount to much, and almost without exception are stuck with the same problems for years. That's just a fact.
However, if you are the type person who knows your health rests in your hands, then let me place End Your Back Pain Now in those hands today.
Just Say, "OK, I'll Give It A Shot!"
Until you give this program a try, you'll never know how well you can actually feel again, with back pain gone and mobility returned. (And if you don't you'll always have that nagging thought about how good you would have felt now if you had taken a small step.)
So just say, "Ok."
End Your Back Pain Now comes with a 100% guarantee. You have a full 60 days to try every test, follow every advice, and do every exercise before deciding whether you want to keep it.
The Bottom Line
You can keep making all the excuses you want about not getting your body back on track and living pain-free.
You can keep going to different doctors and buying all the crap they prescribe.
You can have all the good intentions you want about how "this time will be different" as you limp after the next back-pain-relieving gadget down a rabbit hole.
OR…
You can follow a simple, proven model that eliminates back pain and let's you live your life as well.
The choice is yours.
Personally, I spent too many years of my practice trying the "next great thing" in the effort to find better and more effective solutions for my clients. No gadget, no pill, and no wishful thinking ever relieved the back pain suffering for a single client. But with End Your Back Pain Now you get everything you need. Nothing will be confusing or complicated.
You may not find relief on the 1st day, or in some instances even the 1st week – but just remember that you will find relief. This is a program based on scientific fact and works in an astounding 90% of back pain cases. It's the very same one I use in my clinic in Santa Monica, CA. Don't give up! You will find relief!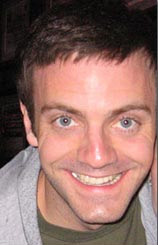 "After battling lower back pain for almost two years, visiting multiple doctors, physical therapists and personal trainers, I was referred to Sam Visnic by a friend. I was desperate to find someone who could help me resume a challenging work out program and educate me as to why I was experiencing pain. Within six month's of working with Sam and his "End Your Back Pain Now!" system, I was doing things I had not done in years. Plus, I finally understood what was causing my pain. Sam's knowledge of the body and how it works is simply amazing. However, what is more amazing is how much Sam cares about his clients. I have complete confidence that whatever pain I may experience in the future, Sam will be able to help me conquer it and continue my active lifestyle. I highly recommend the "End Your Back Pain Now!" system…"
Justin Varis
End Your Back Pain Now How Much?
It seems to me that it would be fair to pay five figures. I mean, we spend more than $1,000 dollars just on some doctor-prescribed tests that get us zero results, and we spend thousands over the years going to therapies and massages in the hopes of even a temporary relief…while the End Your Back Pain Now system you could be holding in your hands now aims to achieve permanent back pain relief.
Plus, once you start on the exercise system included in this program, you can do it over and over again.
And if you have been on any email lists for back sufferers lately, you've noticed that the average going rate for a comprehensive at-home back strengthening program is between $1000-$5000 (and they not remotely as effective as this one).
Sigh. Those things are not just expensive they are LOST when it comes to addressing the ROOT CAUSES of your back pain.
Your End Your Back Pain Now Program includes…
How To End Your Back Pain Now! DVD: listen to this DVD first, since it covers the basics of your back pain elimination plan…including how to use the system, why it works, and what to do first to get started right away!
Your Muscular Imbalance Assessment DVD: this is the quick start guide on understanding muscle imbalances – the primary cause of most back pain. It covers the unique approach we use to help you alleviate it for good.
Pain Relief Through Corrective Exercises DVD – this DVD shows an easy method for determining your own muscle imbalances. You can do it in the comfort of your own home without any special equipment. You'll see step-by-step, easy to understand instructions so you'll know you're doing it right.
Living a Back Pain Free Lifestyle DVD – these easy, gentle exercises and stretches are spelled out in simple to follow video clips with precise instructions so you can get rid of your back pain once and for all.
BONUS Personal Assessment Sheet – use this handy sheet to assess your own muscle imbalance profile and keep track of your progress.
BONUS "Lifestyle" DVD – this special one-of-a-kind guide teaches you how to live a back pain free lifestyle. It includes such advice as how to position your body to sleep, bend, and lift without hurting yourself. It shows you how to set up your computer workstation to reduce back stress. All of the topics covered here will not only keep you from re-injuring your back … but they'll also help speed up your healing process.
$175-Dollar Personal Consultation Certificate for the next 57 people who order – along with the program you will receive my personal email, where you can ask me about your most pressing problems, and I will give you my professional advice.
Should be $497 (easy), but it's not…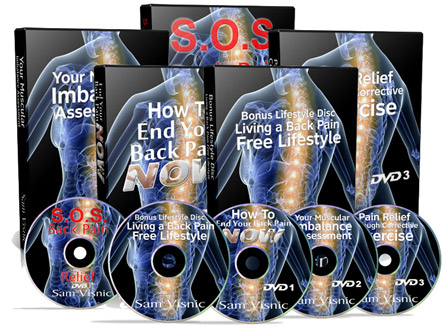 Get My "End Your Back Pain Now" Program
YES Sam, I want in! Please let me have one of the 57 available copies of your "End Your Back Pain Now" program for just $497 $97.I want to use your New, Scientific, Back Pain-Eliminating System to:
Eliminate my back pain for good…

Regain mobility and shedding the fear of "making it worse"…

Skyrocket my energy, flexibility and…

Living a fuller, more fulfilling life within weeks!
Have your credit card handy and click the happy orange "Add To Cart" button below to have "End Your Back Pain Now" program mailed to you right away. (It will arrive priority shipping in about a week, depending on your location).
Add to Cart: End Your Back Pain Now ($97)
I Wish You a Back Pain-Free Life and NOTHING less,
Sam Visnic
Neuromuscular Therapist
P.S. You have nothing to lose. End Your Back Pain Now is 100% guaranteed to work for you or I will buy it back. And best of all, you'll experience yourself just how well this program works as soon as you pop the first DVD into your computer or DVD player. So if you think I'm lying (or inflating the truth even 1%), just let me know within 60 days and you'll get a full refund.
There's no easier and faster way to learn what really works, and put an end to your back pain. So what's holding you back? Claim your End Your Back Pain Now program today CLICK HERE
P.P.S. Seriously, this offer including the personal consulting is only being extended to 57 people…and since you know I still run a practice seeing patients, I obviously don't have time to do this for more people than that!
Once that number is reached, there is not way to know when I will have time to offer this again, and I'll definitely have to put down the $175 dollar personal consultation bonus until further notice.

P.P.P.S. Just so you know, I'm a real person and I really do run a neuromuscular therapy practice. Here is the address for my office:
Visnic Center for Integrated Health
Located inside IRON
1919 Broadway St.
Santa Monica, CA 90404
If you have any questions about "End Your Back Pain Now" program, just email Sam Visnic at sam@endyourbackpainnow.com. Obviously, I'll not be able to answer personal health questions or provide any sort of consultation since those are reserved for clients, but I'll be happy to answer your questions related to his program.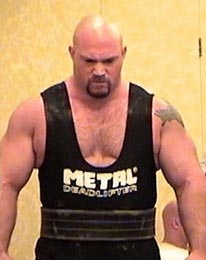 "When people need to learn how to get bigger and stronger they come to me. Five years ago I was one of the strongest men in the world until I injured my back. At the time I was routinely squatting close to 1000 lbs, dead lifting and benching 800 lbs in the gym. After I hurt my back I couldn't get off the couch or dress myself without wanting to die. Since then I have seen every kind of therapist there is and I usually make a modicum of progress, but eventually I end up hurt again. Sam moved to Ohio at a time when I had just injured my back again and couldn't stand up for longer than 1 minute without excruciating pain. After one session my back pain diminished almost in half, after two sessions, I was standing for as long as I wanted with out pain. With Sam's global approach, varied background and multiple discipline training he is able to look at the problem from all angles and not just give me a short term solution, but a long term plan to get back on top. I believe that with Sam's continued help I will again be able to compete injury free. So while I have spent a lifetime learning and teaching people how to get bigger and stronger, anyone I know with back problems I send to Sam. I'm the best at what I do, and so is Sam, that's why I recommend him so highly…."
JL Holdsworth, Professional Powerlifter
Please read my disclaimer: Due to recent statements from the FTC, it is required that I identify what a typical result is. The truth: some people never do anything with the products they buy, so most of the time, their typical results are zero. However, assuming that you actually apply the techniques and strategies in my system, I expect your results to be anything but typical. Bottom line: results vary from person to person based on a variety of factors. You are not guaranteed to obtain the same results as the individuals in the above testimonials, just because you purchase our system… YOU are the most important variable.
Time executed 0 seconds